Sierra de Tramuntana
The dreamy island that provided inspiration to Chopin and Miró now has a reputation as a spring break beach destination. Don't worry, though, if you're holiday-making over elementary school spring break– there's plenty for the younger crowd. Marineland's dolphin and sea lion shows and children's beach attract families. And if you have a Thomas-obsessed toddler, the antique train that travels between Palma and Soller is a must-see.
The Sierra de Tramuntana offers an extraordinary tour through the northeastern coast of the island of Majorca. It is a 100-kilometer long mountain range that goes along the edge of the Mediterranean Sea and offers a green paradise, from Andratx to Cape of Formentor. The mountain Puig Major, with almost 1445 meters of altitude, is the dominant one.
With it cliffs, breathtaking view points and green mountains that flow into intimate small bays with crystal-clear waters, has been refuge to writers, artists, aristocrats and famous celebrities.
Our suggestion for this road trip is, head to this amazing Mediterranean Sea corner coming from the mountain, which is split in two parts.
Buckle up because the Sierra de Tramuntana is wild and with a lot of curves.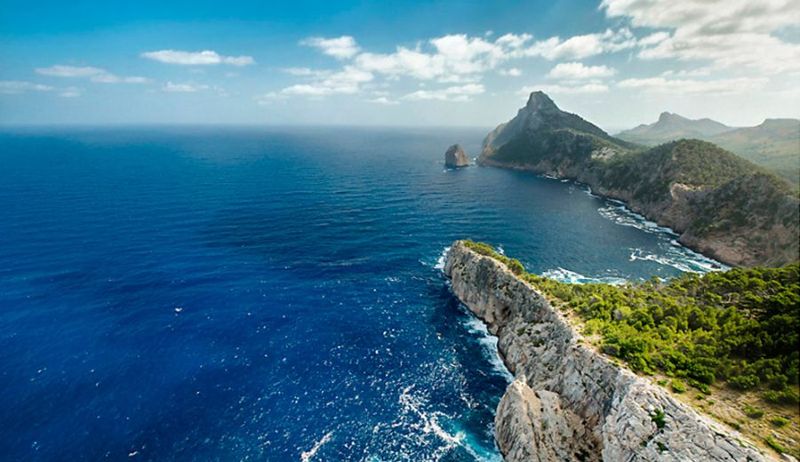 ANDRATX
Andratx and the Port of Andratx are urban centers surrounded by almond trees and pines, at the feet of the Puig de Gelatos.
In Andratx you can find the natural park and islet of Sa Dragonera, with almost 20 different fauna species and an important sea hawks.
Sa Dragonera, Majorca
ESTELLENCS
Estellencs is a stone-house picturesque town, typical of this mountain range–a rural and fishing small village. Its small bay has a very special charm thanks to a few piers that penetrates into de rock.
BANYALBUFAR
Right between Estellencs, Esporles and Valldemossa, we find Banyalbufar. It is a precipitous corner by the sea and surrounded by mountains and crops.
The origin of Banyalbufar dates back to the Arab times and it was a farmhouse. Nowadays, the Tower of Verger and the Talaia de Ses Animes stand out from any other site. Both were built as defensive constructions and they both offer awesome views.
Banyalbufar, Majorca
VALLDEMOSSA
Embedded in a valley, it natural points of views offer amazing panoramic views.
Valldemossa has a very special and unique charm: narrow and steep streets, stone facades and green Majorcan doors and windows; not to mention that it has an outstanding rural landscape with very thick vegetation, thanks to the numerous springs in the area. Preserve the original charm of this village is a huge concern here.
In Valldemossa we find the Carthusian Monastery, which is an ancient monastery that was once home to James II, Frederic Chopin and George Sand. This is just an incredible place where visitors can see piano scores, writings, letters and the very piano "pleyel".
Valldemossa. Natural landscape, Majorca
Valldemossa seems like a pretty nice place to stop on the road. We will let you sit back and relax a little bit and we will resume tomorrow for the second part of this magnificent tour.
Would you like to rent a vehicle to make this beautiful tour? We suggest you to go right ahead and book your rental vehicle at our Majorca Airport office.